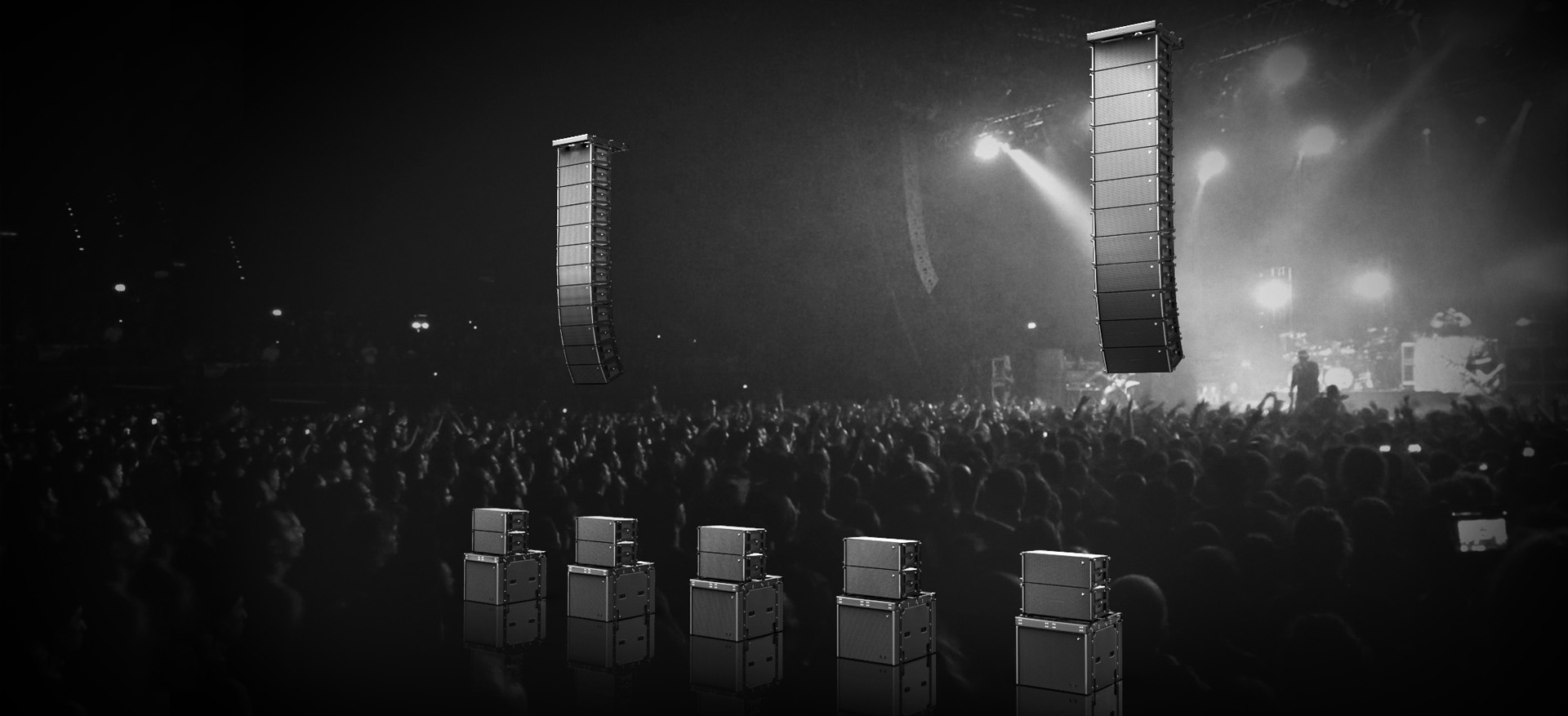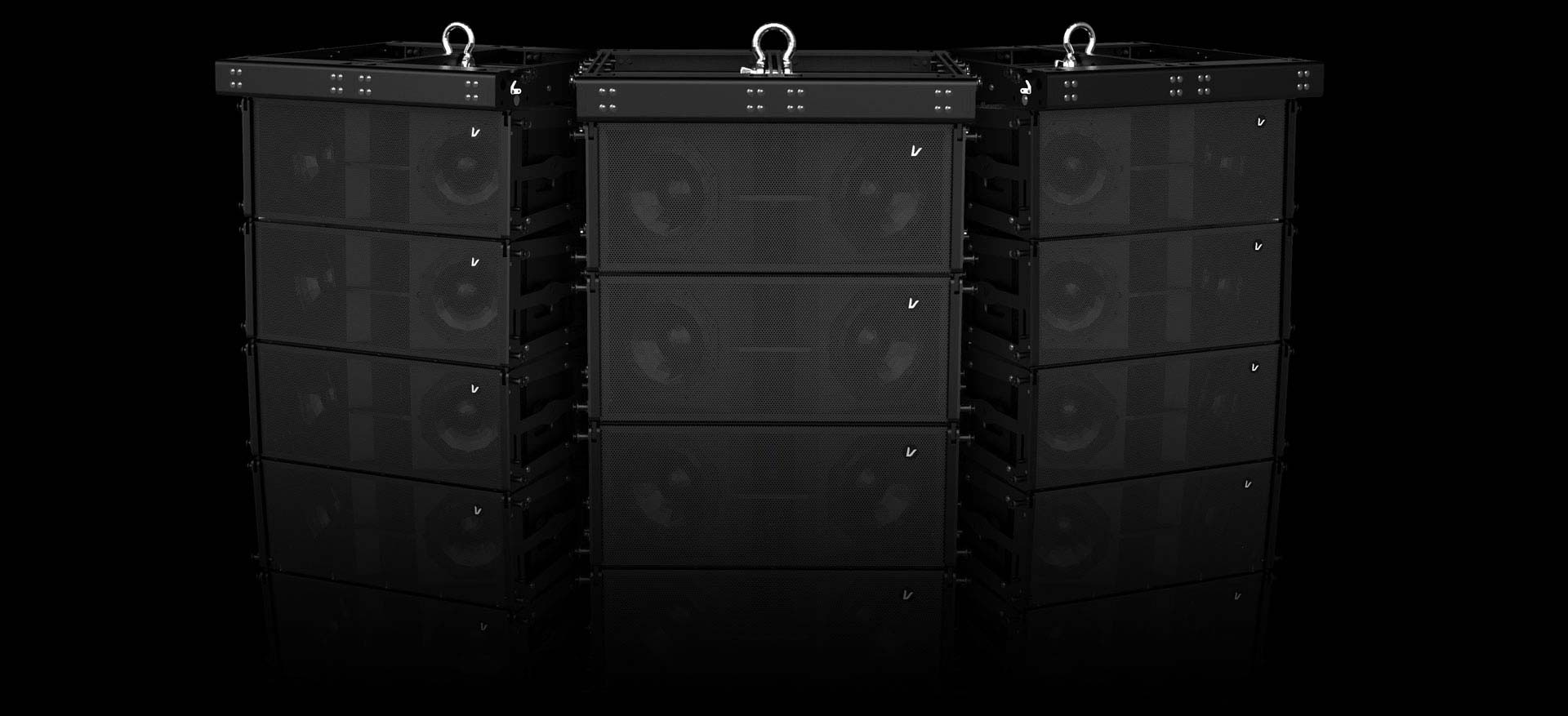 IWAC 208
IWAC208 is a midsize, full range, passive, bi-amplified line array cabinet with Custom European drivers (2 X 8" LF and 2 X 1.75" HF) The exceptionally flat phase and frequency response and wide dynamic range deliver great sound for small to medium concerts, live events, and theatrical performances. Verity flexible mounting hardware system (with a 12 to 1 safety factor) supports both portable and permanent system designs. Up to 8 cabinets and be Bi-amplified ideally using the Verity DP226 digital processor and Verity V4.25 power amplifier.
Subwoofer options comprise the SUB118T.

Applications
System constitution:
The complete system should have IWAC208 line array speaker, flying frame, amplifier rack and the frame of amplifier rack.
The standard application is 4pcs IWAC208 cabinet match with 2pcs SUB118T or SUB218 each side. The V4.25 amp can drive IWAC208 and V2.20 amp drive SUB118T or SUB218. It has fully integrated rigging, no tools are needed for building a complete setup.The IWAC208 line array can be used for:
Mid and big performance.
High end Bar and Disco.

Excellent sound performance:
IWAC208 line array speaker module adopts two way external crossover design, 2 x 8inch bass and 2 x 1.73inch HF drivers. It can output high SPL and Long distance sound diffusion with low distortion.
Completely using physical methods correct phase and frequency response.
No need DSP electronic balance adjustment, can get very flat frequency response (100~13kHz);
< 90 ° phase deflection,>98% sound surface.
Sound image in the front, positioning clear.
The rigging system:
IWAC208 line array module has a 1°/step rigging frame on the side and under a 12:1 safety factor can be used to rigging 12pcs line array module.
Scalable design for extension bar ,precise construction, easy to use,no noise,strong fault tolerance
The big rigging frame can rigging by 1 point or multi-point, both 3/4 inch and 5/8 inch push-pin are suit for the frame.
The amplifier rack
IWAC208 line array has a 6U height power amplifier rack which can be hanging and put one Verity V4.25 amps and one DSP can drive 8pcs IWAC208 speakers.
---
In this way, we can shorten the speaker cable and make the operation more simpler and also can reduce the signal distortion.
Simpler system connection、lower cost、more reliable using experience.
Specifications
Model
IWAC208
Power Capacity
LF:400W HF:120W AES / LF:800W HF:240W Program
Nominal Impedance
LF:16Ω /HF: 16Ω
Frequency Response (-10dB)
80-18.5kHz
Average Sensitivity
LF:98dB ; HF:108dB
Maximum SPL
>136dB (pink noise 1m 1box)
Horizon
106º
Vertical
6°( 1 box )
LF Driver
2 x 8″ Neodymium driver
Voice coil
2″( 52 mm)
HF driver

2 x 1.73″driver
Voice coil
1.73″(44mm)
Exit

1″(25.5mm)
Connector
2x NEUTRIK NL4 SPEAKON parallel LF : ±1 HF : ±2
Cabinet
CNC made 15mm birch wood sandy wear-resisting environmental polyurea spray paint
Hanging side frame
Laser processing steel plate joining together with black paint Have 8PCS Ø10stainless steel
push-pin Angle is not adjustable
Product Dimensions(mm)
684 x 271 x 365
Package Dimensions(mm)
850 x 370 x 470
N.W/G.W
28.5kg / 33.3kg
Remark:
Verity Audio reserves the rights to make changes in specification without prior notice.
The final specification is subject to the user's manual.
Dimensions
IWAC208