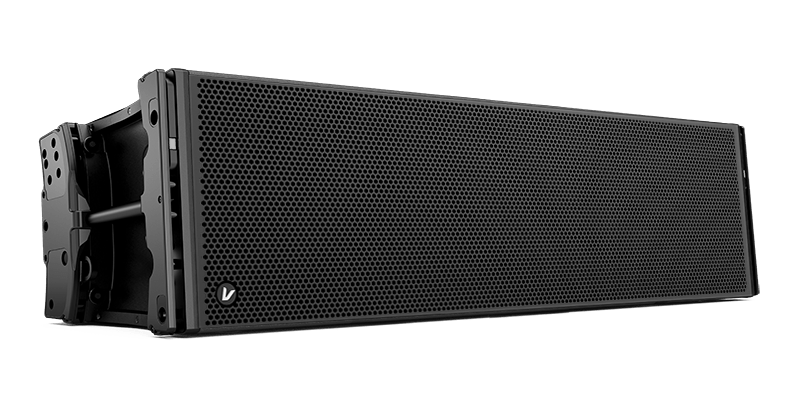 ---
V2
Part of the V Series, V2 is a full range line source element designed for large-scale applications. Designed upon the V series,V2 offers the same pristine, powerful sonic signature into a lighter and more flexible enclosure, making it ideal for national and international touring acts, festivals or sporting events.
V2 delivers full-range bandwidth down to 35 Hz with reinforced LF contour and boasts a strong output of 147 dB, making it a record-holder in performance to weight ratio. Designed as a three-way active loudspeaker quad amplified.
V2 has fix 100°or 90°horizonal directivity. Ultra-precise audience coverage and smooth SPL distribution are granted by the combination of Verity audio wave guide and a precise angle.
The rugged V2 enclosure integrates an efficient, captive rigging system fitted with visual safety for secured and effortless deployment. A comprehensive set of rigging and transportation accessories facilitate storage, truck-loading and multiply deployment options.

---
Specifications
Model
V2
Usable bandwidth (-10 dB)
35 Hz – 20 kHz ([V2_70])
Maximum SPL
147 dB ([V2_70])
Nominal directivity
Vertical : depending on number of elements and array curvature ; Horizontal :100°
Transducers
LF: 2 × 12" cone drivers
MF: 4 x 6,5" cone drivers
HF: 2 × 2" diaphragm compression drivers
Acoustical load
LF: Bass-reflex
MF: Bass-reflex
HF: Verity waveguide
Nominal impedance
LF/MF/HF : 2 x 8Ω / 8Ω / 16Ω
Rigging and handling
4-point captive rigging system 2 large side handles Inter-enclosure angles [deg]: 0.25, 1, 2, 3, 4, 5, 7.5, 10
N.W
56kg
Product Dimensions(mm)
W1342xH359xD400
Connector
2 × 8-point connectors
Cabinet
(Cabinet) Premium grade Baltic birch plywood; (Side panel) Die cast aluminum; (Front) Coated steel grill; (Rigging components) High grade steel with anti-corrosion coating; (Finish)Dark grey brown.
Remark:
Verity Audio reserves the right to make any changes to the product specifications without prior notice. Final specifications to be found in the user manual.

Dimensions
V2

---