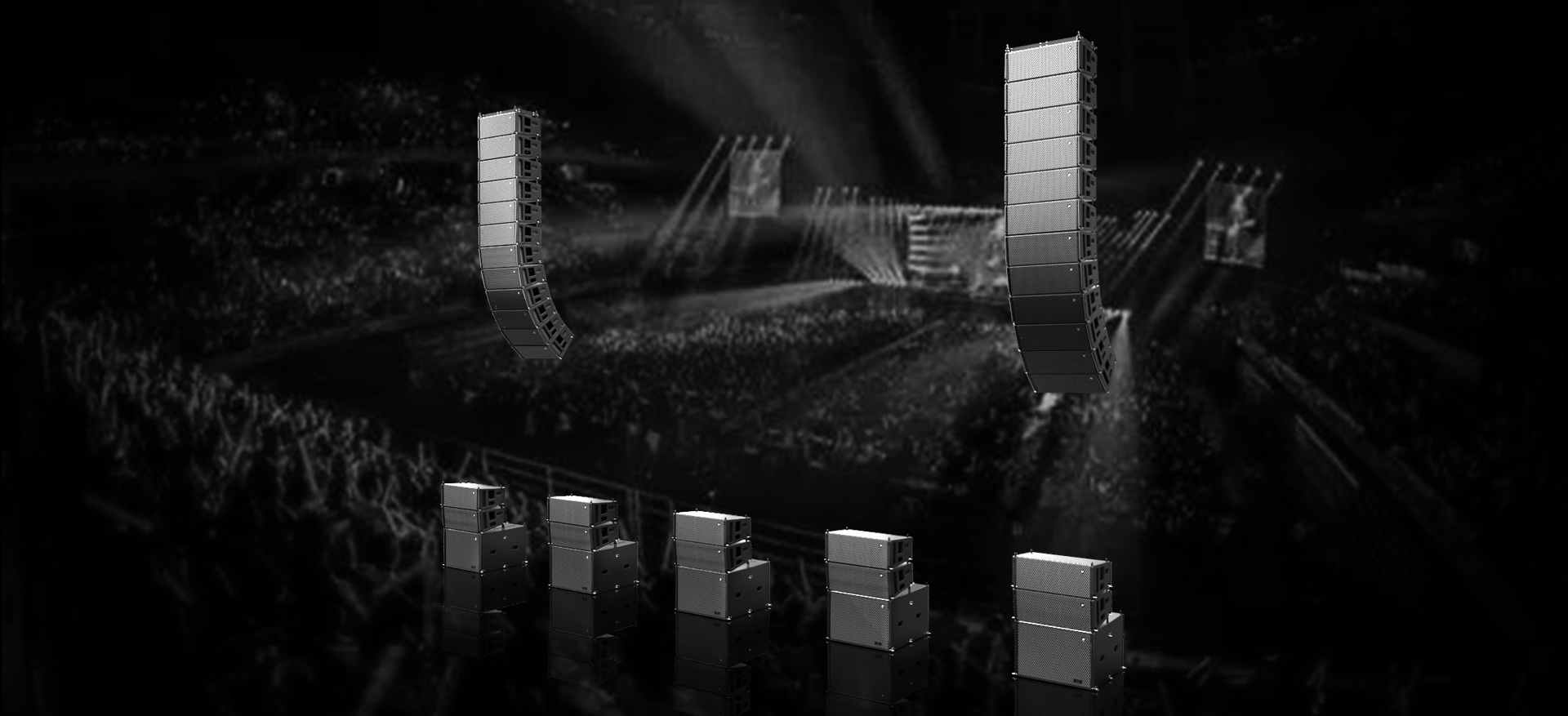 ---
V3
V3 is an upgraded version of IWAC220. All units use top-level units customized in Europe, and the board is made of Russian birch plywood. The sound has a qualitative leap.
V3 is a full-frequency two-way vertical line array speaker module composed of dual 10-inch mid-low frequency and dual 2-inch high-frequency units. The V3 line array advocates the method of physical correction and application of the product design, professional installation design, simple application adjustment, with excellent phase and frequency response, so that you can listen to your ears from a distance.
The product design coverage angle is 100°x10°, the mid-low frequency is 8Ω, and the high frequency is 8Ω. Program power can withstand 1000W, with a high sound pressure output of up to 136dB. (The data is measured at a distance of 1 meter for a single module)
Russia's full birch falcon structure and CNC machined box, with wear-resistant coating and patented quick suspension design, make this product can cover various types of small and medium-sized mobile performances and various medium-range coverage. Amplification occasions.
Specifications
Model
V3
Frequency response
LF: 80~3.2kHz / HF: 1.0k~18kHz
Frequency response (-10dB)
80~18kHz
Nominal sensitivity
LF : 100dB ; HF : 113dB
Maximum sound pressure level
>136dB (peak level at 1 meter in half space)
Withstand power (80~20kHz)
LF : 500W/HF : 140W(AES)
Music power(80~20kHz)
LF : 1000W/HF : 280W
Nominal Impedance
LF : 8Ω /HF : 8Ω
Horizontal overlay
100°
Vertical Coverage
10°
High frequency
2 x 1″ throat compression drivers
HF Voice Coil Diameter
2"(51mm)
low frequency
2 x 10″ neodymium cone drivers
Low Frequency Voice Coil Diameter
2.5"(65mm)
Connect
2xNEUTRIK® NL4 speaker screw sockets in parallel; LF : ±1 / HF : ±2; it is recommended that the crossover point be low-cut at 70Hz and high-frequency at 1kHz (>24dB/oct)
Cabinet Material
CNC machining, splicing into the falcon, 15mm birch plywood; sand texture, wear-resistant and environmentally friendly spray paint coating
Hanging accessories
Box integration, steel plate splicing, painting/electrophoresis treatment; equipped with 4 Ø10 stainless steel safety magnetic latches
1°/step, single machine can be adjusted up to 10°;
Maximum hanging quantity: ≤12pcs
N.W
34.5kg(V3) / 175kg(V3-4UVTS)
Product Dimensions(mm)
W742xH287xD425mm (V3)/ W810xH1370xD660mm (V3-4UVTS)
The above packing dimensions, net weight, and gross weight are for reference only. The accurate values are subject to the identification on the batch of products.
Remark:
Verity Audio reserves the right to interpret the above parameters. The parameters are subject to change without prior notice. The most specific parameters are subject to the product manual.
Dimensions